Speaking with friends and family about the Lord's Supper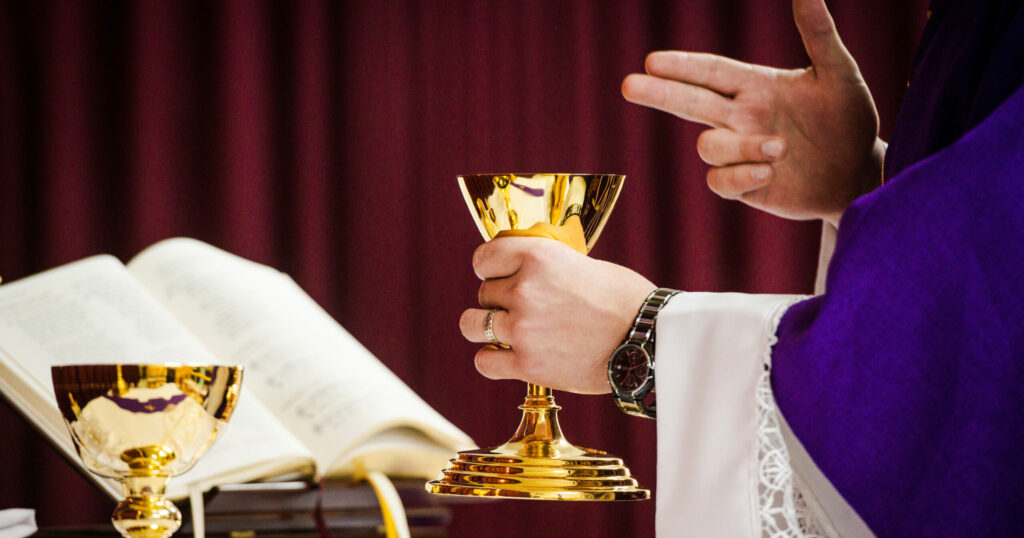 by Mark J. Buchhop
"Pastor, I want to invite my friend to church, but I don't know how to explain our Communion practices. Could you please help me with that?" That question might be one of the most important questions any pastor could answer. It really matters how parishioners deal with closed Communion when they visit with friends or family members who are not members of The Lutheran Church—Missouri Synod (LCMS). This question might even be a reason why some are afraid to invite someone to church.
A difficult conversation
A growing number of people in our midst, including our family and friends, simply do not attend any congregation at all. They may have little or no biblical knowledge of the Sacrament. Or they may think that there is little difference between the many different Christian denominations regarding the Lord's Supper. But this certainly is not the case. Christian denominations hold many different beliefs and practices, some of which oppose the biblical view of the Lord's Supper.
To make the conversation a bit easier, first review Luther's Small Catechism. Luther writes, "What is the Sacrament of the Altar? It is the true body and blood of our Lord Jesus Christ under the bread and wine, instituted by Christ Himself for us Christians to eat and to drink" (SC VI; see also EP VII 6–9, 15).
Start with Jesus
Start the conversation with Jesus. Our family and friends probably know a little about Him. It is a good starting point in your conversation.
Jesus is true God and Man. He is our Brother. He is our flesh and blood, yet without sin. He is our substitute, Savior and Redeemer. We attend the Divine Service to learn about and grow in His love, grace and forgiveness. He is not simply a wise man, a wonderful example of how to live a good life, but someone to be revered and respected because He is true God.
To explain this, you might use an illustration from C.S. Lewis' book The Lion, the Witch, and the Wardrobe. He gets at this reality of Jesus when he discusses Aslan. "Aslan is a lion — the Lion, the great Lion." "Ooh" said Susan. … "Is he — quite safe? I shall feel rather nervous about meeting a lion." … "Safe?" said Mr. Beaver … "Who said anything about safe? 'Course he isn't safe. But he's good. He's the King, I tell you."[1]
Attending the Lord's Supper means entering the presence of Christ the King. It is His meal, not ours to do with as we please. With that in mind, our conversations about the Supper should focus on entering the presence of God.
How dare any sinner approach the Lord's Table and come into direct physical contact with the King? St. Paul instructs us to examine ourselves before we come (1 Cor. 11:27–28). This examination will always show our need for forgiveness, rescue and salvation. Discussing this examination may help your family or friend see their sin and need for forgiveness.
Then explain how we confess our sins each Sunday, and how God, who is faithful and just, forgives our sins and cleanses "us from all unrighteousness" (1 John 1:9). Jesus desires that all repent and come to the knowledge of the truth (1 Tim. 2:3–4). For this reason and in spite of our sins, Jesus comes in the Lord's Supper to serve us forgiveness.
At the cross
Now this conversation about the Lord's Supper is headed in the right direction; it is headed to the cross. The cross of Jesus is the only reason anyone may approach Christ the King. Jesus makes us worthy by taking all our sins to His cross. Thus, as the pastor distributes Christ's body and blood, he speaks Jesus' words: "given" and "shed for the forgiveness of your sins" (LSB, p. 199).
Our enemies — the devil, the world, our sinful flesh — have not changed. Only Jesus has the medicine of life. In the Divine Service, He serves us His risen, living body and blood, hidden under simple bread and wine. He unites us with His victory over all our enemies, making us citizens of His kingdom. For, "where there is forgiveness of sins, there is also life and salvation" (SC VI).
The conversation
Now it is time to turn the conversation with your family and friends to closed Communion. It is always best to have this conversation before the day of the Divine Service. If you are concerned that the conversation will be especially antagonistic, ask your pastor for additional guidance. Encourage your guests to speak with your pastor also; he often has the closed Communion conversation and can help diffuse a tense conversation.
Explain how closed Communion is a loving practice. As St. Paul taught, those who receive the Lord's Supper in an unworthy manner eat and drink to their harm and not their blessing. We would be unloving to commune those who would receive the Supper to their harm. Jesus gives His Supper as a blessing.
Also emphasize the gifts and giving of Jesus. You might say, "I'm glad you asked about the Lord's Supper. The Lord's Supper is such a powerful and beautiful meal. We would love to have you receive these gifts. Our church invites non-LCMS members to learn more about it so they may receive it too. Pastor would love to visit with you to offer instruction about this wonderful Sacrament, so you may commune with us soon. Would you like me to join you when you visit with him?"
As you share about the Lord's Supper, focus on the Lord Jesus and all He has done for us.
---
[1] C.S. Lewis, The Lion, the Witch, and the Wardrobe (New York: Harper Collins, 1950): 79–80.
This article originally appeared in print in the November 2020 issue of The Lutheran Witness.
About The Author
Mark J. BuchhopThe Rev. Dr. Mark J. Buchhop is a retired LCMS pastor.